Upcoming Classes & Events
Fun Flower Classes
Our flower classes are inspiring, full of laughter and friendship. Our classes are open to all – no experience required. Classes are between 6-8 people ensuring a non threatening and fun environment. Classes are held at our creative space in Paraparaumu. Shop 15, Lindale Complex, 111 Lindale Drive North, Paraparaumu, with lots of natural light and free parking.
At Wild About Flowers we are regularly changing and updating what is on offer. Classes are generally run 4 to 5  times per year with all product provided ie; flowers, foliage, containers, tools – you just come along, have some fun and take your creative floral piece home.
If you wish to be on our email list for regular updates and when the next fun flower class might be, please click on the link below.
I really enjoy Megan's fun classes, meeting cool people and coming home with my very own master pieces over the past 4 years. Look forward to your next class. Thanks Megan 😀
Lovely and affirming learning that has brought flower joy into my world. Now I boldly buy and arrange flowers.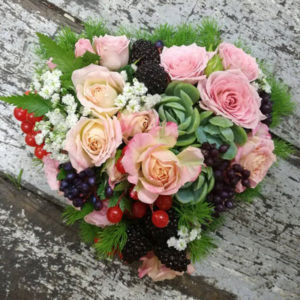 One on One Flower Class
Our one-on-one flower class covers: learning correct techniques and grammar from the floral industry. In the first one-on-one session you will learn the basics of wrapping a single flower (the importance of scale and proportion, space and tying correctly), wrapping a plant (again scale and proportion, originality and flair and balance) and lastly you will learn how to spiral correctly. Once you have discovered the art of spiraling, you can continue to practice at home – you will be thrilled with the result.
Most of these classes are run on a Friday, Saturday or Sunday. Classes are held at our creative space in Paraparaumu. Shop 15, Lindale Complex, 111 Lindale Drive North, Paraparaumu, with lots of natural light and free parking.
If you wish to inquire about available dates for a One on One Flower Class click on the link below, we will answer your query and send you further information.
Just had the most amazing floral class with Megan. I booked a one on one session to get some help with assembling hand held bouquets and came away not only being more confident with putting these together but also getting confirmation that the preparation for the floral arrangements I had been doing for a few years were following good basic practice. Megan is so easy to talk to and passionate about sharing her knowledge with others. This session was one of the best things I have ever signed up for and won't be the last.
Thank you Megan for today, the session was fantastic. I learn't so much in the time we spent with you. Was a fun day and we were both so pleased we attended your class. The flowers were beautiful and it was lovely to take our creations home. Thanks again.
Megan has a calm and logical method of teaching that truly connected and inspired us. It has given us both great confidence to try new designs and techniques. We found the experience very rewarding and had an absolute blast with her! Can't recommend Megan enough for anyone wanting to learn floristry.
I cannot praise Megan enough! Her knowledge of floristry is second to none so to know that I am being taught by the best is unbelievably reassuring. I approached Megan with no floristry experience whatsoever but I now have a solid groundwork of skills that I can transfer and build upon. Megan never lost patience with me and made learning the art of floristry both relaxing and fun. Her one-on-one lessons are a superb way of getting some intense tailored training and working on the areas which you feel need the most attention. Floristry is something that I had always wanted to do but had delayed for so long. After lessons with Megan it's now a passion and I work in the floristry industry. I have Megan to thank for that and I couldn't be more grateful.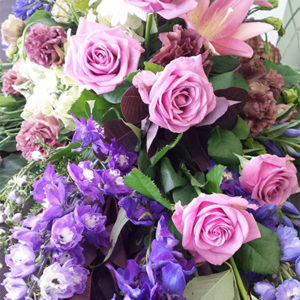 Comprehensive Professional Flower Class
This is a 12 week course (1 day per week for 3 hours). On this course you will learn professional flower techniques covering; wiring, displaying flowers and foliage's in floral foam, spiraling, water filled containers, wrapping of plants, single flower wraps, a corsage and buttonhole, along with theory sessions which entails; The Principles and Elements of Designs, sketching, costings of flowers and product, flower care and botanical names and identification.
Classes are held at our creative space in Paraparaumu. Shop 15, Lindale Complex, 111 Lindale Drive North, Paraparaumu, with lots of natural light and free parking.
If you wish to receive further information on this extensive course please click on the link below.
I had a lovely time learning about flowers/floristry at Megan's classes. I left the 12 week course with a good fundamental knowledge for progressing my career in the flower industry. Megan goes above and beyond to make sure the classes run smoothly and was more than happy to pass on her knowledge – she really knows her stuff.
The Comprehensive Professional Flower Class taught by Megan Parker, Wild About Flowers, over twelve weeks was beyond my expectations. I learnt about the elements and principles of floristry design, and practiced with fresh flowers and foliage every week. I learnt new flower design techniques, handling/storing methods all of which challenged and excited me. I loved the weekly study, it kept me focused for the next week's topic and I learnt so much. I cannot recommend Megan Parker and the Comprehensive Professional Flower Class course enough.
Thank you so much for all your help. Doing your Comprehensive Level 3 floristry training makes such a difference to me and my business, and I have the added benefit of your ongoing amazing help, expertise and products alongside me!! You are a brilliant mentor.
Thought you'd appreciate an update I have accepted a job as a stewardess on a super yacht. I fly to Palma on the 25th to join them. Thanks so much Megan for helping me to get this job, through your wonderful course. I am very excited to pack all my materials and tools.
Megan, you have been an amazing tutor to us all and I really appreciated being able to do and finish the course.
I am thoroughly enjoying Megan's class. Her competence in Floristry and her commitment to teaching shine through all aspects of the class and there is no skimping on materials. We are learning proper and solid foundation skills, which is so important to produce quality work. I am really looking forward to the classes every week and can only recommend this course.
Megan is a kind, caring, loving lady who will welcome you with open arms and make you feel comfortable no matter how little you know about floristry. I honestly look forward every week to my Sunday mornings in her class, it's fun and hands on and it teaches you everything you need to know for a good basis to grow on. Megan teaches you proper skills, techniques, concepts and how to express our originality and flair. Her love and passion for floristry is infectious. I would truly recommend this course to anyone interested in floristry and wanting to learn more.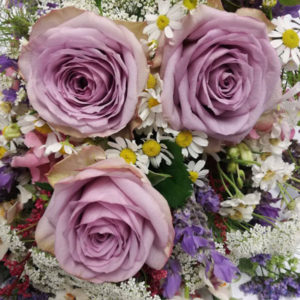 Other Options
If you wish have a hen's day/evening party ie where you make floral crowns or practice the table settings, enquire now and we can organise this for you.
If you wish to run a team building session, let us know what is required and we can create the perfect team building fun.
Here at Wild About Flowers we are fully focused on the latest trends and styling, tell us what you require and we can take it from there.
I loved spoiling my team by taking them to Megan's place in Lindale Village for our home office Christmas party. Wild About Flowers was a perfect venue for the special treat of learning how to put together our own beautiful bouquet – and then we each got to take our stunning creations home. Eight of us felt very spoilt by Megan who had prepared for our arrival with lovely fresh blooms and foliage, individual work stations with everything we needed – including glasses for the champagne we brought with us. Megan is a master florist who effortlessly guided us through the process and offered useful guidance and advice that we will all use in the future when playing with flowers. I would highly recommend this as a fun activity for a girls weekend, bridal shower, team building, creativity retreat, or other lush girly celebration.
As a Christmas outing for our team of 6 it was fantastic. Megan was friendly, accommodating and very patient with us! We took bubbles with us and between learning about flowers and arranging our bouquets, we had a fun-filled, relaxing day. We would recommend Megan to anyone looking to do some team bonding. Thank you for a memorable experience.
Did you know?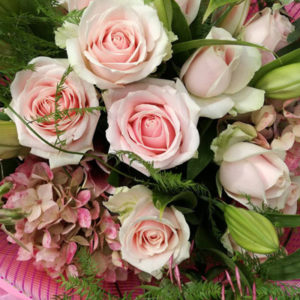 Did you know, when picking flowers and foliage's from the garden there are some great little tricks that you can do to make them last longer.
Both flowers and foliage require water to keep them alive, therefore if you are picking from the garden it is best to walk around with a bucket of luke warm water; as soon as you pick your product strip any leaves off that will go below the water line, then place your flowers and foliage directly into the bucket of luke warm water.
Did you know that the best time to pick flowers and foliage's is early in the morning or late in the evening, when it is cooler, this reduces the dehydration of the flowers and foliage and helps them hydrate sooner.
Did you know many flowers and foliage's also drink through their heads, if you are picking violets from a garden once you have bundled them up with a little tie, you can spray their heads with a fine mist of fresh water, or dunk them upside down for a few minutes before placing their cut stems in water. Hydrangeas are the same, sometimes their heads can become a little soft, turn the hydrangea upside down in a bucket of water for about 10 minutes, when you turn them back up the right way, recut the stem on a 45 degree angle and place them back in water.